Software Downloads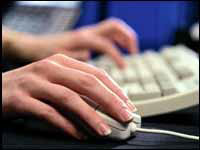 Today, more than ever, there are so many ways to create and produce printed work. For each type of printing on the market there seems to be a different set of guidelines for preparing output files. Laser Image tries to minimize the confusion by providing you with friendly and helpful technical support.
In order to produce a successful printed piece you need two key elements: the correct printer driver and the most effective application program for the printing method you will use.
In the PRINTER DRIVERS link below you will find appropriate printer drivers for each type of printing we do at Laser Image.
You will also find Acrobat Distiller Job Options you can download for both Mac and Windows. These job option files are placed in the SETTINGS folder under your ACROBAT DISTILLER FOLDER on your hard drive.
The LAYOUT & DESIGN link provides you with a list of application softwares you should use in order to maximize your print quality on Laser Image equipment.
In the remainder of the links we've compiled a list of some of the most popular, as well as some of the most useful, shareware and freeware we've come across. We've included everything from Web browsers and e-mail programs to graphic and multimedia applications. We've also thrown in system utilities that will help ensure efficient completion of your next project with us.
Getting the best print quality means using the correct tools! Call us if you have questions. We're happy to help!