View A Proof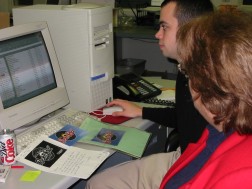 The proofing process is very important to us. The proof is a way of ensuring that your type and graphics are output according to your requirements.
Since output devices process digital information using a variety of processing languages, it is critical that you verify your document has been interpreted properly by our equipment. Your approval of the final proof is assurance that you have looked over every aspect of our work and approve it as accurate.
There are two ways to proof your document. You may receive a hard copy, or you may view a proof utilizing our online proofing program.
NOTE: If you have concerns about the print quality of halftones or intricate graphics ONLINE proofing is not the best way to evaluate your proof. Since your computer screen is only 72 dpi resolution it may not give you an accurate rendering of a halftone.
To enjoy the convenience of our online proofing program, contact one of our customer service representatives for more information.